Wear With Purpose
shop sustainably
We are a small team of designers and makers who are passionate about creating beautiful, high-quality dresses using sustainable materials and traditional techniques. Our dresses are hand-knit in Ecuador by skilled artisans who have learned their craft from generations of women in their families.
Bring a touch of effortless elegance to your beachside look with our "Coastal Chic" white dress separates set. Made from soft, sustainable materials, this set includes a breezy white top and matching bottoms that can be mixed and matched to create a variety of stylish looks. Whether you're lounging on the beach or strolling along the boardwalk, this set will keep you cool and comfortable. The lightweight, breathable fabric will feel soft against your skin, while the relaxed fit will flatter your figure.
The "Coastal Chic" set is perfect for the conscious consumer who values style and sustainability. Each piece is handmade using traditional techniques and sustainable materials, including organic cotton and linen. By choosing this set, you are not only supporting a small, woman-owned business, but also making a positive impact on the environment. Add some coastal chic to your wardrobe today and experience the beauty of sustainable fashion!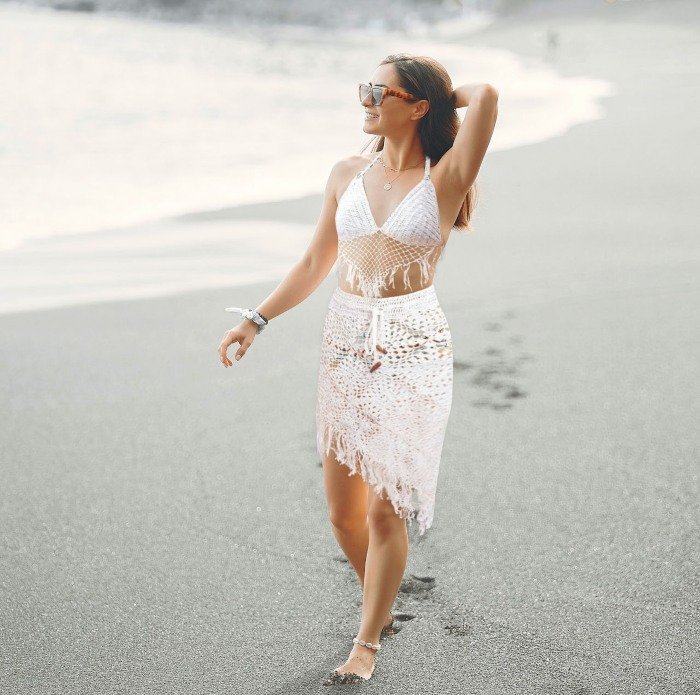 Our story began with the daughter's designers, who grew up surrounded by beautiful fabrics and patterns. She had a deep appreciation for the art of dressmaking and a desire to create something that was not only beautiful but also sustainable and ethical. With the help of her mothers, they began designing and making dresses using locally sourced, sustainable materials.
Sustainable knitwear
The journey from Ecuador to the world.
As our business grew, we realised that we could make an even greater impact by involving more women from our community in the process. Many families in Ecuador live in poverty, and women often struggle to find work that allows them to support themselves and their families. By providing training and employment opportunities for these women, we are able to help them earn a fair wage and improve their quality of life.
Bolivian Bloom
Bolivian Bloom Knitted Long Vest: Effortless Elegance with a Touch of Nature Wrap yourself in the beauty of our "Bolivian Bloom" knitted long vest, a captivating garment that seamlessly blends style and nature. Crafted with care and inspired by the rich traditions of Bolivia, this vest is a true statement piece that will elevate your wardrobe. The "Bolivian Bloom" features a stunning white knitted design, carefully handcrafted to perfection. The intricate patterns and textures reflect the artistry and attention to detail of Bolivian artisans, paying homage to their remarkable skills. Adding a touch of nature's charm, the vest is adorned with a central wooden button. This exquisite detail not only enhances its visual appeal but also symbolizes a connection to the earth and the natural world. Versatility is at the core of the "Bolivian Bloom" vest. Whether worn over a simple t-shirt and jeans for a casual outing or layered over a dress for a more sophisticated look, this vest effortlessly elevates any ensemble. Its loose, flowing silhouette drapes gracefully, providing a flattering and comfortable fit for all body types. The "Bolivian Bloom" is crafted from premium, sustainable materials, ensuring not only its longevity but also its eco-friendly nature. The soft and breathable fabric is gentle against the skin, making it perfect for year-round wear. With proper care, this vest will accompany you on countless adventures, preserving its beauty and charm for years to come. Immerse yourself in the elegance and nature-inspired allure of the "Bolivian Bloom" knitted long vest. Embrace the spirit of Bolivian craftsmanship, and let its timeless design and exquisite details bloom in your wardrobe. Elevate your style with this captivating piece that celebrates the art of knitting and the wonders of nature.
FEATURED JOURNAL
We explored beaches in search for inspiration